Dedicated to doing Business in Animation
For this year and the first time at the MOVE Summit we have added a strand of the programme dedicated to those doing business in animation and vfx, comprising a range of events that studios will want to be sure not to miss.
From hosted industry 1:1 meetings, talks and panels on funding and development, studio recruitment drives and a bookable workshop dedicated long format development.
With the presence of UK-wide agencies, broadcasters and commissioners it will be a prime opportunity for local creative talent to showcase their work and pitch to relevant parties, to whom they might not otherwise have the opportunity to.
From the agency and commissioning side it will be a great opportunity to scope out potential creative suppliers and collaborators currently leading the way in Scotland. 
Industry 1:1 Matchmaking Meetings
Businesses attending MOVE Summit can book a slot at our industry 1:1 matchmaking sessions to have the opportunity to talk with representatives from top broadcasters, commissioners, creative agencies and production companies.
With representatives attending from commissioners of children's animation, creative agencies, production companies, funding bodies, award winning studios and development agencies, the  1:1 sessions will be the perfect opportunity to get advice, pitch your work as a service provider or just get advice from leading professionals in their field. Available to delegates of the industry days of MOVE Summit and will be on a first come, first served basis, these sessions will be invaluable way to connect, collaborate and do business.
Confirmed contributors include: Netflix, BBC (Children's Animation & Puppetry and BBC Childrens, Scotland & N.I), BFI, Blue Zoo, AXIS Studios, Union, PUNK and The&Partnership plus more to be announced soon!
---
Attendance: The 1:1 matchmaking meetings are open to Professional Pass holders only. Meetings can be pre-booked on the day on a first come first served basis. See released schedule for further details.
Matchmaking Meetings - Industry Participants
Industry Focused Panels and Talks
We have a range of business focused content, from a panel on long format development funding, a masterclass from a leading independent children's content producer and an intimate workshop from Alison Warner, MD of Blue Zoo's brand-new division, Blue Zoo Rights. These sessions are designed to inform and enable studios to grow their businesses.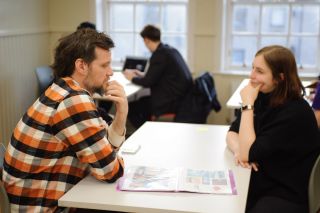 Panel: Put the Fun into Funding
Join Sueann Rochester (AWUKS, Wildchild Animation), Jackie Edwards (BFI), Alison Warner (Bloo Zoo Right), Andy Wright (BFI), Sean Greenhorn (Screen Scotland) for an in depth and fun discussion surrounding funding and financing for long format animation projects.
---
---
Attendance: The 'Put the Fun into Funding' panel is open to all MOVE Summit ticket holders.
IP Development Masterclass - Alison Warner discusses The Deep
Join Alison Warner as she dives into"The Deep" using it as an in-depth case study in how to take a piece of premium intellectual property from initial concept through to full series animation and marketing and merchandising.
---
Attendance: The IP Development Masterclass is open to Professional Pass holders only. Tickets for this workshop will be released at 12 noon on Wednesday 19th and will be limited to 20 spaces. See social media channels for further information.