Announcing the MOVE Summit 2020 Workshops Programme
In addition to the core talks and panels, this year we have expanded our event programme to offer a greatly increased number series of skills-based, practical workshops. Each session is led by an industry specialist and focuses on a different technique, process or skill and we're super excited to announce the amazing talent on show in this year's programme!
Workshop spaces are limited to 20 people per workshop and are only available to MOVE ticket holders, for the day the workshop it taking place. Places for each workshop session will be released daily at 12 noon starting next week, Monday 10th February.
Craig Foster - Pixar
Setting a story on the Royal Mile this workshop will develop the time and situation from which to develop the criteria and learn how to take a well known environment and change it via shading, graphics and by creating unique elements that have an authenticity and create a believability throughout the set and characters. Within this workshop Craig will also cover designing for establishing shots, mid, and close-ups via a story point – like a newspaper or map – and talk about how we work to help move the story along by giving the audience a sense of place and location.
---
Thursday 20th
13:30 – 15:30
Tickets released – Monday 10th Feb @ 12noon
James Walsh - Writing for Animation
A workshop that strives to answer two questions… How does writing for animation differ to live action? And how do you launch a career as an animation writer?
If you're interested in writing on an existing series or developing your own ideas, this workshop covers both the craft of writing for animation and where to start if you want to find work. From world-building and directing the reader to making the right industry contacts, James will use his own experience writing for hit animated shows to cover a variety of topics.
---
Thursday 20th
11:30 – 13:00
Tickets released – Tuesday 11th Feb @ 12noon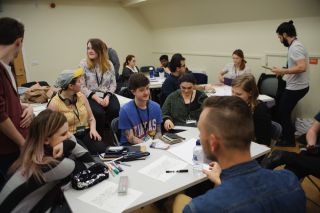 Ignacio Ferreras - Visual story development for feature films
During the workshop attendees will cover the visual development process, going from the source material through beat-boarding, up to storyboarding. Ignacio will then delve further into storyboarding with a focus on how visual story development intersects with character and set design, specifically within a feature film development context.
---
Friday 21st
11:15 – 12:45
Tickets released – Friday 14th Feb @ 12noon
Ekaterina Pushkarova, Axis Studios - Character sculpting
Ekaterina's workshop will revolve around portraiture, and how to transfer skills as a classical artist into the 3D CG world. Sharing early concept art from high profile projects, the workshop will demonstrate each stage of development, from facial anatomy and sculpting, to texturing in ZBrush and the creation of hyper realistic facial details.
---
Friday 21st
11:15 – 12:30
Tickets released – Thursday 13th Feb @ 12noon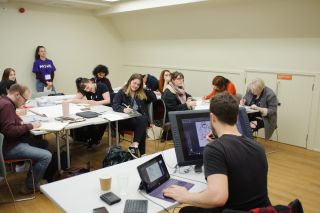 Amy Ash, Axis Studios - Character Creation Head-to-Toe
Amy's workshop will be an overview of the way she goes about creating a character, from reference collection and initial concept sculpting to topology, cloth sculpting and texturing, and will cover some of the processes she follows when adding life and interest to a model.
---
Friday 21st
14:30 – 15:45
Tickets released – Sunday 16th Feb @ 12noon
Camille Fourniols, Axis Studios - Hair and Fur Groom
Within this workshop Camille will detail how to best utilise Houdini, and how to groom from scratch. As well as discussing the role of the grooming artist in the production pipeline, Camille will showcase a myriad of Axis projects and what it takes to achieve the best results.
---
Friday 21st
13:15 – 14:30
Tickets released – Saturday 15th Feb @ 12noon